FREE DOWNLOAD: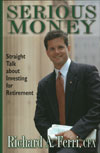 Serious Money is my first book, written incognito during the late 1990s when I was still a stockbroker at Smith Barney. It was the beginning of my quest to change the investment adviser industry.
I explain why stockbrokers, investment firms, financial consultants and the mass media do not always have your best interests at heart and take the industry to task for spending too much effort selling and too little effort on meeting the real needs of investors. The book exposes why "beat the market" strategies almost always fail, how management fees and commission costs erode your profits and explain the ulterior motive driving most investment advice.
Last, I encourage investors can take charge of their own financial future and leave the gimmicks, false promises, media hype, and "miracle" stories behind. The book maps out the steps to develop a successful approach to investing for retirement using market-matching index funds and other "passive" strategies that truly build wealth while keeping investment costs and taxes to a minimum.
Praise For Serious Money, Straight Talk About Investing for Retirement
As sources of investment advice continue to multiply, so does the challenge of distinguishing wisdom from mere information. Rick Ferri's thoughtful and thorough guidebook cuts through the clutter and provides genuinely useful advice. -Weston Wellington, Dimensional Fund Advisors Inc